Why intercultural coaching?
"Coaching is partnering with clients in a thought-provoking and creative process that inspires them to maximize their personal and professional potential" (ICF).
Intercultural or cross-cultural coaching adds the cultural aspects of a person, group or organisation to the "creative process". The aim is to foster a better understanding of how you function or work with your cultural background. With a better knowledge of yourself, your mind can embrace the other culture with more openness and creativity.
We all function with verbal and non-verbal codes. However, these codes vary from one culture to another. Americans tend to be more direct (say what they mean and mean what they say) whereas Asians tend to be indirect and careful not to hurt the others feelings. These differences can lead to misunderstandings or even conflicts.
Intercultural coaching addresses multicultural groups, a person with a different cultural background integrating a new group, expats going to a new country or coming back to the country of origin.
     My mission as an intercultural coach is to promote better understanding of one's own codes and deciphering and understanding the other's codes better. Specific tools such as the Cultural Orientation Framework (P. Rosinski), cultural intelligence and various tools such as the models below are integrated into the classical coaching process. With a dose of positivity and creativity, the idea is to adopt a "think-outside-the box" way of life.
 Edward T. Hall's Model of the Cultural Iceberg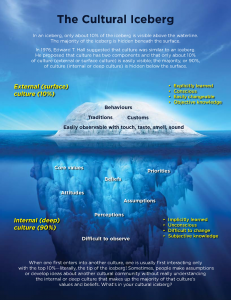 Milton Bennett's Model of intercultural sensitivity
 
Milton J. Bennett's view on the iceberg theory: Culture is not like an iceberg
This work is licensed under a Creative Commons Attribution-NonCommercial-NoDerivatives 4.0 International License.